Many companies have a story connected to their foundation — often explaining what inspired the CEO to create the company. And, no, the inspiration is not, "To make a boatload of money." At

SimpliSafe

, the story begins with a robbery:
After his friends were robbed, Chad Laurans discovered a serious problem in the home security industry.

No one was protecting renters.

Alarm systems needed a ton of hardwiring and came with pricey long-term contracts that couldn't be canceled.

So Chad built something new.
This story about

Chad Laurans's

inspiration is quoted from SimpliSafe's page focused on apartments, located

here

. The same page includes a sales message referencing apartment protection

:
Now SimpliSafe is the fastest growing home security company in the nation. SimpliSafe won't lock you in a long-term contract and

24/7 professional monitoring is only $14.99 a month.

Protect your apartment—the smart way.
So it would appear that Mr. Laurans understands the needs of people who live in apartments for adequate security. That brings us to a postcard mailed to apartment homes and what I believe is a
Fail for Targeting and Creative
.
Lead Generation Postcard
I live in a
co-op apartment building
, which typically consists of units that resemble apartments. Although they are cooperatively owned (rather than rented out) by their residents, these are very similar to rental apartment units in that they are underserved by the legacy home security companies.
Lead Generation

Po

stcard - Address Side
Presuming this postcard is part of a national campaign, a version should have been created specifically for people living in apartments.* The apartment-versioned postcard could support Mr. Laurans's story by mentioning the need for even small apartments to have physical protection. In addition to communicating a low monthly price, the postcard could focus its limited space to communicating safety, peace of mind, renters insurance discounts, and effortless set-up. The

Call to Action

would be to a visit a landing page that reinforces service benefits while leading with a product package best suited for apartments. This could be

The Foundation

,

The Essentials

, or a similar lower-priced package. After all, many renters don't need water or freeze sensors

.
Apartment-centric page - mobile view
SimpliSafe may also want to consider the entire prospect user experience that results from using the postcard as a lead generation device. Above, for example is the

Apartment-centric page

as viewed on a Pixel 3a XL

. Much of the type is too small to read on a mobile device. Other pages in the domain require a reader to scroll left and right — cumbersome on a laptop and an outright hassle on a mobile phone. Mobile use as a percentage of internet traffic continues to increase, even for people in their homes, and especially for young renters. SimpliSafe should consider creating mobile-friendly versions of their site or fully embrace responsive design

.
If SimpliSafe's communications are optimized for target market relevancy, this company's story could have a happy ending. To paraphrase a SimpliSafe tagline, that would be "Direct Marketing. Done Right."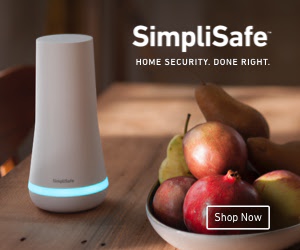 SimpliSafe Retargeting Ad - laptop view
Lessons:
When your product has multiple target markets, segment your list selection and messaging to appeal to those target markets.

Maintain messaging consistency and product recommendations relevant to your target market segment all the way through an online sale.

Consider how your content appears on mobile devices.
*It could be that SimpliSafe is segmenting rental-style apartments in their list selection, and I received a piece designed for single-family homes because I live in an owner-occupied unit. Nonetheless, the presence of an apartment number in my address should have been a flag for list scrubbing, segmentation, or at least understanding the nature of co-op apartments.